Mannok Team Develop Jazz PET trays for a true circular economy
Mannok has developed a new plastic food packaging which utilises a recycled PET material stream previously overlooked by the food packaging sector in its production, Recur by Mannok. This is a true circular economy food packaging solution made from jazz PET – a mixed coloured PET material derived from recycled post-consumer bottles and PTT (pots, tubs, and trays).
Recur by Mannok has already hit Tesco shelves across Northern Ireland, with the first of the new packaging range available to consumers since 4th April. The roll-out of the first Recur line is continuing, with a total of 12 new packaging trays in green, burgundy and silver, due to be on the shelves by 10th May.
Until now, consumer demand for high clarity clear trays has resulted in a strong industry reliance on recycled post-consumer clear PET bottles. Limited demand for coloured trays has meant that recycled post-consumer PET material, other than clear PET bottles, are often downcycled into non-food packaging applications.
Recur by Mannok has been developed to change this practice and challenges the industry to rethink its position on the recycled material used in food tray manufacturing.
Recur ensures PET food packaging can be easily and continuously recycled back into food packaging, providing a more environmentally sustainable solution. By facilitating a higher inclusion level of recycled PTT (pots, tubs, and trays) in PET food packaging, Recur is the ultimate circular economy solution.
Speaking of Recur and its potential impact on the industry, Mannok Sales Manager, Ruairi Maguire, commented,
"Jazz" trays, such as Recur, are the future of food packaging trays, and a potential game changer in the industry. As the demand for clear PET bottle flake increases due to commitments by drinks companies to increase the recycled material content in their PET bottles, we risk material shortages and price increases due to overwhelming demand. To mitigate this risk, we must broaden the range of recycled materials we use in our food packaging products.

Recur achieves the same high quality, food grade standards required from our packaging trays, bringing with it a broad range of different coloured packaging products, deviating from the traditional clear trays which rely on clear PET bottle flake to produce. Our supermarket shelves are destined to become a more colourful display, and it's a change which retailers should be proud to adopt and shoppers should be eager to see, as it is a sign that we are moving towards a more sustainable, true circular economy.

We're delighted to have Recur trays already on supermarket shelves and commend Tesco and Hilton Foods Ireland for their early adoption of the new range."
Recur is the newest addition to Mannok's range of sustainable packaging solutions, each one designed to address specific recyclability issues:
Detecta by Mannok: The breakthrough solution to black plastic recycling
Signum by Mannok: Mannok's mono-material 100% recyclable PET trays
Orbital by Mannok: Food packaging made from 100% recycled plastic
Recur by Mannok: A true circular economy food packaging solution using jazz PET
Recur by Name…
The name Recur reflects the circular nature if the product which ensures we can recycle the PET food packaging of all colours in our ordinary household recycling waste into new food grade PET food packaging. It's the perfect name for a product which is eternally renewable, and which revives "jazz PET" for continuous use.
Mannok successfully completed a 2-day surveillance audit of its ISO Certified Health and Safety, Quality Assurance and Environmental Management Systems in April.
The detailed inspection was carried out by leading certification body, Certification Europe, and involved a thorough review of all aspects of the packaging manufacturing business. During the successful audit of the facility against the ISO 14001, ISO 45001 and ISO 9001 certification standards, auditors found no non-conformities or opportunities for improvement.
The accreditations are globally recognised as representation of the highest standards in environmental, health and safety and quality management respectively, underlining the significant work which the business does to maintain the excellent standards they have implemented.
Speaking of the certifications, the company's EHS Manager, Breda Mulligan, said
"These ISO accreditations represent the highest benchmark in standards relating to health and safety, environmental and quality management systems, and successfully completing the surveillance audits for all three recognises the continuous work we're doing here in Mannok to ensure we uphold superior standards in the areas which matter most to our business. Maintaining this level of excellence is very much a collaborative effort from every member of the team, which impacts every part of our business, so the positive outcome from the auditing process is thanks to the hard work of all involved."
ISO 45001: Occupational Health and Safety
ISO 45001 is an International Standard that specifies requirements for an occupational health and safety (OH&S) management system, with guidance for its use, to enable an organisation to proactively improve its OH&S performance in preventing injury and ill-health. The standard applies a risk-based approach to the management of all health and safety matters in the workplace to ensure that management processes are effective and are continually improved in line with industry standards and changes throughout the company. ISO 45001 enables an organisation, through its OH&S management system, to integrate other aspects of health and safety, such as worker wellness/wellbeing.
ISO 14001: Environmental Management System
ISO 14001 Environmental Management System (EMS) is a systematic framework to manage the immediate and long-term environmental impacts of an organisation's products, services and processes. It is internationally recognised as a means for organisations to grow their business in a sustainable manner, minimising their environmental footprint and diminishing environmental risk through the development and maintenance of sustainability focused operational improvements.
ISO 9001: Quality Assurance Management System
ISO 9001 sets out the criteria for a quality management system based on a number of quality management principles including a strong customer focus, the motivation and implication of top management, the process approach and continual improvement. Using ISO 9001 helps ensure that customers get consistently high quality products and services and is a trusted mark which reassures all customers of the quality they can expect when dealing with Mannok.
Twenty staff members from Mannok's packaging production facilities have successfully completed their NVQ level 7 Lean Six Sigma Yellow Belt Certificate course with the Institute of Technology, Sligo (IT Sligo). The 14-week online course is reputed as Ireland's premier accredited online Lean & Operational Excellence course, utilised by several of the country's leading employers to upskill their workforce in the areas of Lean and Six Sigma.
Mannok have formed a partnership with IT Sligo to deliver a structured training programme which will enable staff to gain knowledge and skills in the areas of Lean and Operational Excellence as part of the company's "Leading Excellence" development programme. The four-tier training programme gives Mannok employees the opportunity to gain QQI accreditation in Lean Six Sigma through IT Sligo, up to level eight accreditation.
The twenty staff members who recently achieved their Yellow Belt certification are now accredited to level 7 and will have the opportunity to continue progressing to achieve their Level 8 qualification.
Mannok's General Manager, Mark McKenna commented on the importance of employee involvement in the Lean Manufacturing journey, saying,
Part of developing a truly Lean thinking business is ensuring it is part of the very fabric of the organisation, and that requires the involvement of everyone in the company. The provision of a structured, certified upskilling framework open to all employees is an important route to achieving that. Our partnership with Sligo IT and our wider Leading Excellence Programme also aligns with the responsibility we have to our staff.

One of the most important things we do for the people in our business is offer them opportunities to continuously progress and upskill throughout their career with us, and we've proven that the calibre of our employee development structure is among the very best in the country, having recently won a HR Leadership and Management Award for our Skills Development Programme.

Well done to the team members who have worked hard in very challenging times to successfully earn their Yellow Belt certification and to all those who are currently working towards their next achievement level.
Lean Six Sigma
Lean Manufacturing is a globally recognised methodology that focuses on minimizing waste within manufacturing systems while simultaneously maximizing productivity. Mannok have been implementing Lean Manufacturing principles throughout their operations for a number of years now, continuously looking at how the company can improve its processes and physical working environment to become a more efficient and less wasteful business. Eliminating waste leads to reduced environmental impact, improved quality, increased productivity, and reduced costs, benefitting both the business and its customers.
The Lean Six Sigma training Programme adopted by Mannok combines the proven Lean principles with another business methodology, Six Sigma. Six Sigma is a data driven, problem solving methodology that utilises tools to improve the capability of an organisation's business processes.
It views all work as processes that can be defined, measured, analyzed, improved, and controlled, and applies strategies to achieve increase in performance and decrease in process variation, leading to defect reduction and improvement in profits, employee morale, and quality of products or services.
With continuous improvement and innovative thinking embedded in the culture at Mannok, the very nature of the Lean and Six Sigma principles to enhance and refine every area of the business on an ongoing basis, have become part of the everyday way of working in the company.
Mannok have been awarded a Silver Award at the Repak Pakman Plastic Pledge Awards 2020 in recognition of the company's extensive work to make their products and operations more sustainable.
The company's achievements include the development of their ground-breaking flagship solution, Detecta by Mannok, the first fully recyclable black plastic packaging, as well as two other innovative solutions designed to tackle specific recyclability issues, Orbital by Mannok and Signum by Mannok. In the space of just one year, Mannok have emerged as true leaders in the drive to develop more sustainable packaging solutions, with the launch of these three pioneering products and a host of additional sustainability initiatives.
The Pakman awards are the premier national environmental and sustainability awards in Ireland, that recognise excellence in recycling and waste management among businesses, organisations, community groups and initiatives in Ireland.
Due to the impact of Covid-19, this year's awards did not include the full list of 14 categories seen in previous years, but rather the focus was solely on the Repak Plastic Pledge, with three categories of gold, silver and bronze, and one overall winner. With 125 Plastic Pledge signatories, there was a broad spectrum of organisations represented, and the shortlist included 13 very strong awards entrants.
In addition to Mannok's Silver Award, the company were among three finalists for the overall Plastic Pledge Award winner, alongside Coca Cola and Aldi, with Aldi picking up the main prize.
Repak's Plastic Pledge is a comprehensive commitment to reduce plastic packaging waste and help Ireland play its part in achieving the goals set out in the EU Circular Economy Package. The Pledge includes five overarching commitments, each with their own set of measurable targets. These five core commitments are:
1. PREVENT WASTE
Focus on prevention of plastic packaging waste by minimising single use packaging and promoting packaging reuse where possible.
2. SUPPORT CIRCULAR ECONOMY
Support Ireland to deliver the Circular Economy Package plastic recycling targets of 50% of all plastics by 2025 and 55% of all plastic packaging by 2030, as set by the European Commission.
3. SIMPLIFY POLYMERS
Reduce complexity within the plastic packaging supply chain by simplifying polymer usage and eliminating non-recyclable components in all plastic packaging by 2030.
4. USE RECYCLED
Help build a Circular Economy for used plastic packaging by increasing the use of plastic packaging with a recycled content.
5. AVOID FOOD WASTE
Ensure the reductions in use of plastic packaging do not jeopardise our opportunities to achieve Ireland's goal of a 50% reduction in food waste by 2030 as set out in Ireland's food waste charter. Plastic plays a role in preserving a large number of food products.
The Plastic Pledge awards criteria challenged signatories of the Pledge to demonstrate results in each of the core commitments. Mannok successfully showed significant achievements to achieve the Silver award, including the move to producing only fully recyclable plastic packaging, the removal of 1,000 tonnes of non-recyclable or difficult to recycle plastics from market, the use of circa 1 billion recycled PET bottles within their operations, and the diversion of 500 tonnes of black plastic packaging from landfill, and all in the space of a year.
Mark McKenna, General Manager of Mannok's packaging operations, said of this latest award,
"For us, this is a particularly significant achievement. We are serious about our responsibility as plastic packaging producers to ensure everything we do is done in the most sustainable way and to make a significant contribution to the wider community to reduce plastic waste responsibly. The Plastic Pledge we have committed to gives us a comprehensive framework to achieving this and helps us benchmark our progress.

The calibre of the awards entrants shows that we as a company are up there with the very best when it comes to delivering on our sustainability commitments. To achieve a silver award in what is widely recognised as one of the most prestigious awards in the country relating to environmental achievements amongst such a field is fantastic recognition of our work in this area. We're incredibly proud."
With Brexit now only a matter of weeks away, Mannok's CFO, Dara O'Reilly, has outlined the work the company have been doing to prepare for the 1st January deadline in this new interview. The message from the interview is clear: Mannok is ready for whatever the Brexit outcome is, and ensuring a smooth transition and continued customer supply is a top priority.
The Interview
"Mannok is a uniquely located business; it's located on the border between the Republic of Ireland and Northern Ireland, on the only land border which will exist between the EU and the UK following the UK's exit on 1st January. We have operations both in the Republic of Ireland and Northern Ireland within our business, so for example in the Republic of Ireland we have our cement plant in Ballyconnell, our packaging plant which manufactures plastic packaging, and we have our PIR insulation plant. We also have some quarry assets in that jurisdiction as well. On the Northern Ireland side of the border we have a number of our concrete products facilities, so we have our precast concrete plant, we have our roof tiles plant, our administration offices, our aircrete block plant, and our dense concrete block plant, as well as ready mix facilities and a number of quarry activities located in Northern Ireland.
"On a day to day basis, the Mannok business would have approximately 450-500 cross-border movements of our product. That could be raw materials coming from our quarries into the cement plant in the Republic of Ireland, or some of our cement product going to our concrete products facilities in Northern Ireland. In addition to that, obviously we have a significant amount of customer product moving from our facilities out to our customer base within the island of Ireland. On a daily basis we also have on average around 80-90 truck loads per day leaving our base here in Ballyconnell and Derrylin and traversing the Irish Sea over to our GB customer base.
"The border in that eventuality is invisible. All that might differentiate the border in this area is a line in the tarmac in the road where it changes from one local authority to another, but outside of that at present we have no customs infrastructure, and haven't had for many years.
"We've taken a lot of measures within the business to facilitate a smooth transition from the pre-Brexit era to the post-Brexit era to ensure our customer base sees that transition as seamlessly as possible, and that they continue dealing with Mannok for their product needs.
"The work that we've done in that regard involves some systems development in our IT systems here; it also involves some changes in the way we'll operate going forward. In addition to that, we've also had to look at our corporate structure to ensure that corporate structure is fit for purpose under the new post-Brexit day scenario.
"So, we have established a number of new legal entities within our business, a number of new companies, within the GB market, and in effect what will happen is our GB customers will be dealing with a Mannok GB entity. They will be dealing with that entity directly: they'll be placing their orders with that business and they'll be getting their invoices from and paying that GB-based entity. And then, behind the scenes as such, we as a business will be catering for and dealing with all of the administration that's associated with the cross-border movement of those goods. All of the red tape associated with customs documentation, declarations etc., is contained in effect within the Mannok organisation and we will look after all of that for our customers. So, from a customer's perspective, it's the exact same dealing with Mannok as dealing with a supplier who's just down the road from you.
"No doubt our customers will be wondering if this is going to lead to extra cost for them in relation to the product we're supplying to them. I suppose if you look at that, what we will be doing is we will be seeking to get a market price for our product. Tariffs obviously is something which is a little bit of an unknown post January 1st. In terms of the actual tariffs that apply to our products, they range in value from potentially zero under WTO tariffs to 6.5% for some of our products. Those tariffs will impact on our competitors as well, some of which import a significant amount of their raw material from Europe.
"The price that we charge on the invoice will be the entire price, including whatever tariffs might apply to us. So, in summary, we can reassure our customers that the price we charge for our products will be in line with market pricing within the markets we're operating in and servicing. And we do believe that for the quality of the product that we supply, we are very competitively priced.
"Naturally, another consideration for the business is the supply chain of raw materials, and indeed parts, for example for our machinery on our production lines: where those products are coming from, where they're sourced, and is the eventuality of Brexit going to have any impact on those? And we've been working with our supplier base for quite a period of time now to ensure that the structures that they have in place and the supply chains and supply lines that they have in place are sufficient and robust to cater for a Brexit scenario.
"For example, as far back as 18 months ago, some of our raw material suppliers have started utilising different routes for getting their product from their production facilities on mainland Europe to our production facilities in the Republic of Ireland. What we have been doing more recently is building stocks and making sure that we have stocks of critical parts and raw materials for our production enterprise. We have the capability within our own storage facilities to store enough raw material – for example within our PIR insulation and our packaging areas of the business – to cater for a number of weeks' production requirements.
"On the other side of the business, the concrete products side of the business, virtually all of our raw materials are sourced locally within our own reserves, and we have plenty of that as well. But for those products we have to buy in, we've built our storage and the amount of products we're keeping on site at our production facilities; we have arrangements with our key suppliers also that they will maintain buffer stocks for us at their own locations, and as I mentioned, we're also looking at the supply chains and the supply lines from their production facilities into our facilities to ensure that any delays are minimised and that, if there are delays, we have sufficient stock to maintain a supply to our customers.
"A key priority for us in all of this was to ensure that the service we can provide to our customers in a post-Brexit environment is as seamless as possible. We've made the changes to our structures; we've made the changes to how we operate; and as a result of that, regardless of the outcome of the Brexit negotiations, we're ready."
Mannok have been announced as winners of the Most Innovative Use of Technology Award at the 2020 HR Leadership and Management Awards.
The company's new Digital Skills Development Programme earned them the award in this highly competitive category, which included a number of high-profile contenders, such as Bus Eireann and LinkedIn, who were named in second and third place respectively.
The Programme has transformed the way Mannok deliver their training through the use of technology and has resulted in significant benefits for both the company and its employees. The Programme was first developed for Mannok's packaging facility and is now being rolled out across the business.
The HR Leadership and Management Awards celebrate excellence in HR, allowing innovation and achievement to shine, and recognise that it will be key to the future economic prosperity of the Irish economy. The Most Innovative use of Technology category celebrates organisations which have used technology to move HR forward, demonstrating an innovative approach and fully utilising technology to bring benefit.
The announcement comes just days after the company formally rebranded from Quinn to Mannok, with a commitment to continue driving forward in the same progressive manner. This is the latest in a number of awards the company have received in recent years which celebrate their innovative spirit and focus on responsibility to their people, having previously received awards for their innovative Safety Hub and Creating Futures Programme.
Speaking of the latest award win, Caroline McCaffrey, Mannok's HR Manager, said,
"We're delighted to receive this recognition of the very innovative work we've been doing to completely transform our training delivery and create a structured framework for employees to continually enhance their skills and further their careers.
The implementation of such a vast change requires involvement from every single area of the business, at every level, and the engagement to bring this to fruition is a credit to everyone involved. We continue to expand the Programme to provide further opportunities to employees and to improve efficiency and safety in the workplace.
With both innovation and people so central to the Mannok brand, it is fitting that the very first award we take home under our new name is in recognition of the innovative work we're doing for the people in the business. And it is the people who deserve to be congratulated for this award win. It is a fantastic achievement for them and for the company."
Rebrand Milestone: Name Change from Quinn to Mannok Officially Complete
Following the announcement in September that Quinn would rebrand to Mannok, today, 16th November, marks a significant milestone for the company as the rename is complete. Mannok is now officially the new brand name, replacing the familiar Quinn brands Quinn Packaging and Quinn Building Products.
Mannok have given a very strong signal of commitment to both the Irish and UK markets, reassuring customers that they can expect to see more of the same under their new brand: more quality products, more innovation and more environmental focus from the same people, with the same expertise.
With the change of brand name comes a number of associated changes, including website and email addresses and social media accounts as outlined:
All email addresses will change in line with the website updates, so @quinn-packaging.com emails will be @mannokpack.com
For packaging customers, the relevant social media updates are:
Mannok have contacted customers and suppliers regarding administrative changes for ordering and accounting purposes, but the transition from Quinn to Mannok has been designed to ensure there will be no disruption and to make the change easy for customers. All orders placed before 16th November will be processed as normal.
Given the scale of the organisation, it will take up to 12 months for the full rebrand to be complete, but customers can expect to see more visual changes in the coming months. Customers are reminded that their local Sales Manager is available to discuss the changes and to answer any queries they may have, or queries can be sent directly to info@mannokpack.com.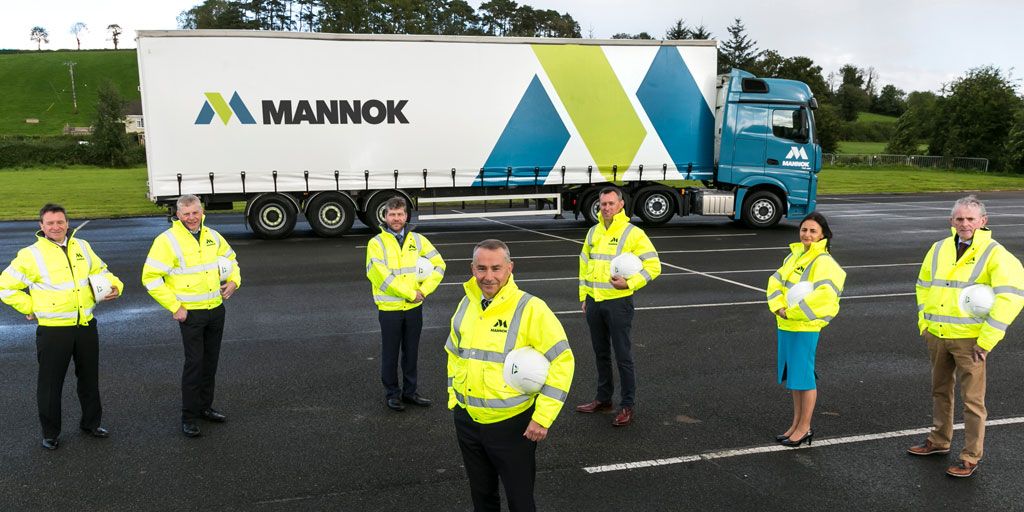 NEW BRAND "MANNOK" SIGNIFIES STRENGTH AND COMMITMENT AS COMPANY'S EARNINGS INCREASE FOR 5TH CONSECUTIVE YEAR.
"Mannok" was today unveiled as the new identity for Quinn Industrial Holdings, a name which the company's familiar brands "Quinn Building Products" and "Quinn Packaging" will transition to in the coming weeks. The rebrand announcement also revealed details of the company's strong 2019 financial results, which show it to be in the strongest position since acquisition in 2014, with a fifth consecutive year of increased earnings (EBITDA).
Becoming Mannok
Rebranding to Mannok marks the culmination of a 5-year transformation and investment programme that has repositioned the business as a provider of increasingly sophisticated and sustainable building and packaging solutions, supporting an increase in sales of over 30 per cent during the period.
The name derives from the gealic Fear Manach, the origin of 'Fermanagh', reflecting the company's pride in their roots in the Fermanagh and Cavan region, and their commitment to the people and communities which are the lifeblood of the organisation's success.
The new identity resonates well with domestic and international stakeholders, an important consideration given the company's increasing export focus.
2019 Performance Results: Company in Strongest Position since Acquisition
An overview of Quinn Industrial Holdings' operating performance for the 12 months ended 31 December 2019 shows another increase in earnings (EBITDA – Earnings Before Interest, Tax Depreciation & Amortisation) to €26.6m, with an investment increase to €11.5m. This marks the fifth successive year of increased earnings and shows a robust performance despite the challenges of Brexit and price decreases in certain markets.
Performance Highlights
Earnings (EBITDA) increased from €26.4m to €26.6m, despite Brexit H2 challenges
A 2.5 per cent dip in turnover from €240m in 2018 to €234m in 2019 reflects lower pricing in line with market trends, with overall volumes comparable to 2018 levels.
Investment of €11.5m in the period brings total company investment to €60m since acquisition in 2014.
The 2019 outturn demonstrates the strong underlying performance of the business, despite a very challenging latter part of the year as a result of the continuing BREXIT uncertainty.
"Continuing Growth and Innovation" Ahead
2019 saw heavy investment in both Quinn Building Products and Quinn Packaging, totalling €11.5m, which included fleet and mobile plant replenishment, as well as investment in fixed plant augmentation projects expected to yield significant profitability over the years ahead.
Both business areas were also celebrated for their innovative achievements in health, safety and the environment, important areas of focus for the company which will continue as key priorities under the new Mannok brand. The organisation was awarded the Mineral Products Qualifications Council (MPQC) trophy for Behavioural Safety, Safety Culture and Leadership at the 2019 Mineral Products Association (MPA) Awards, whilst Quinn Packaging received a National Pakman Award in recognition of its efforts to boost plastic recycling in Ireland through its breakthrough new product, Detecta by Quinn, the first fully recyclable black plastic packaging, developed by the company to address issues recycling black plastics.
Speaking of the new brand and 2019 performance, the company's CEO, Liam McCaffrey, said,
We are extremely pleased to unveil Mannok as our new brand identity, which we believe better reflects the ownership, evolution and future focus of our business. It marks a major milestone for us following a 5-year transformation programme that has empowered our staff and repositioned our businesses for continuing growth and innovation. Our business is now in the strongest position since its acquisition in 2014 and Mannok is an appropriate and much more expansive brand proposition that reflects what our customers value most – a professional one-stop-shop for building and packaging solutions and the support of exceptional staff. They can certainly expect a lot more of that same quality offering we've become synonymous with, but "more of the same" does not mean we'll stand still, as we will continue to focus on developing and innovating with market leading, sustainable solutions.

2019 marked our fifth successive year of earnings growth and a robust performance given Brexit uncertainty. Our targeted investment of recent years has established strong foundations for continuing growth across Ireland and the UK.

Post year end and the emergence of Covid-19, the health and safety of our staff and customers has been our key priority and we have taken extensive measures to mitigate risk and support the national fight against the pandemic. Our staff play a critical role in ensuring business continuity and in the provision of key supplies to essential sectors including food and construction. We are very grateful for and acknowledge our staff support, forbearance and commitment over the difficult lockdown period. We also congratulate them for their organised support for healthcare workers which led to the company donating PPE and raw materials for PPE to a range of frontline organisations including our local hospitals and care facilities in Cavan and Fermanagh.

Trading for both our Building Products and Packaging solutions is strong year to date, despite the impact of COVID-19 and continuing Brexit concerns, and we are confident of another strong performance for both areas of the business in 2020.

Looking ahead to 2021 and a post-Brexit environment, we are very optimistic about the future of Mannok and the strong position of the company going into the coming year.

LIAM MCCAFFREY, MANNOK CEO
Quinn Packaging have successfully developed Product Environmental Footprints using the Life Cycle Assessment (LCA) methodology for all their manufactured food packaging products. An LCA is an internationally standardised measurement of a product's environmental footprint. It communicates transparent and comparable information about the life-cycle environmental impact of products, (conforming to ISOs 14040 and 14044).
Quinn's Product Environmental Footprinting project has been established to measure and reduce the environmental impact of products and will enable retailers to make a more informed choice about the packaging products they use.
These "cradle to gate" footprints demonstrate that every aspect of manufacturing has been looked at and assessed, from the raw materials right through to dispatch to assess the carbon footprint of the manufacturing process.
Quinn Packaging's LCAs have been developed by independent assessors, EcoReview, who carried out full Life Cycle Assessments using the innovative footprinting tool, Ecochain. The process of developing LCAs requires analysis of large volumes of data on the types and volumes of materials and the energy types and processes that go into making the products. The company have published a total of 14 Product Environmental Footprints for Quinn Packaging, which include meat and poultry trays, mushroom punnets, dairy spread containers and ready meal containers.
In order to complete the full Life Cycle Assessment, it was essential to drill down into details such as sources of materials and their chemical constituents, details on energy types (e.g. fuel mix of electricity generated), and allocation (i.e. metering of electricity) across manufacturing processes. Quinn Packaging also looked at waste types generated and the end-of-life scenarios for these wastes.
Quinn's General Manager, Mark McKenna, reaffirmed the company's commitment to more environmentally friendly packaging solutions, saying,
As a company, we are at the forefront of developing more sustainable products which work in a circular economy and ensure our customers can make better informed choices. In order to make a fully informed decision on packaging solutions, retailers must consider the full suite of environmental credentials, including the carbon footprint of the product choices available. We believe these Product Environmental Footprints place us among the first companies here to be able to provide robust and transparent data on this their packaging products. This is a key part of the decision-making process and we're now in a stronger position to advise our customers on the most sustainable solutions for them.

And we can now provide these detail Product Environmental Footprints to our customers, on request.

It also means we can continue to improve our processes to minimise the environmental impact of our products and our operations, ensuring we maintain our commitment to be a leading provider of sustainable packaging solutions.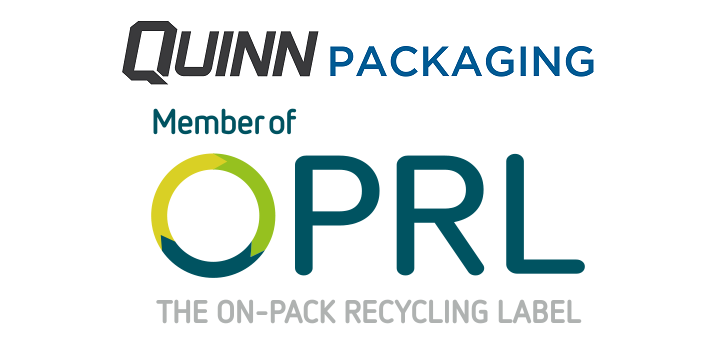 Quinn Packaging have signed up to the UK's OPRL (On Packaging Recycling Label) scheme which aims to provide clear messaging for consumers on the recyclability of packaging products. The company's packaging products meet the criteria to carry the green "Recycle" label.
OPRL is an award-winning scheme which has been established to ensure consumers can easily identify whether a product's packaging can be recycled through clear and consistent labelling from a trusted source.
Each packaging component (e.g. tray, carton, sleeve, film) and material (card, paper, foil, plastic etc) carries clear information which takes into account the whole recycling process from council and in-store collections to sorting at material recycling facilities, the likelihood of reprocessing and the availability of end markets.
Uniquely, Defra guidance on making environmental claims cites the OPRL scheme as good practice in recyclability claims, since it is based on availability of recycling services. This is essential when considering the true recyclability of a product as it doesn't just look at whether a product can be recycled in theory. Rather, it considers the likelihood of that product being recycled in practice, so it is a more accurate reflection of recyclability.
Speaking of Quinn Packaging's membership, the company's Product Development Manager, Thomas McCaffrey, said,
"We have made significant advances in improving the recyclability of our products and developing true circular economy solutions here at Quinn Packaging and we have launched three new product lines in the space of a year as a result. Ensuring consumers are fully aware of which products are recyclable is essential, particularly given that there are many misconceptions about different types of packaging which can cause confusion and often lead to the wrong choices from a sustainability perspective. Initiatives such as the OPRL scheme are essential in helping consumers and retailers make better informed decisions based on the true recyclability of packaging products and we're fully behind this drive towards clear and transparent messaging."
OPRL Labels
The main OPRL labels which consumers are becoming more familiar with are the simple Recycle and Don't Recycle labels.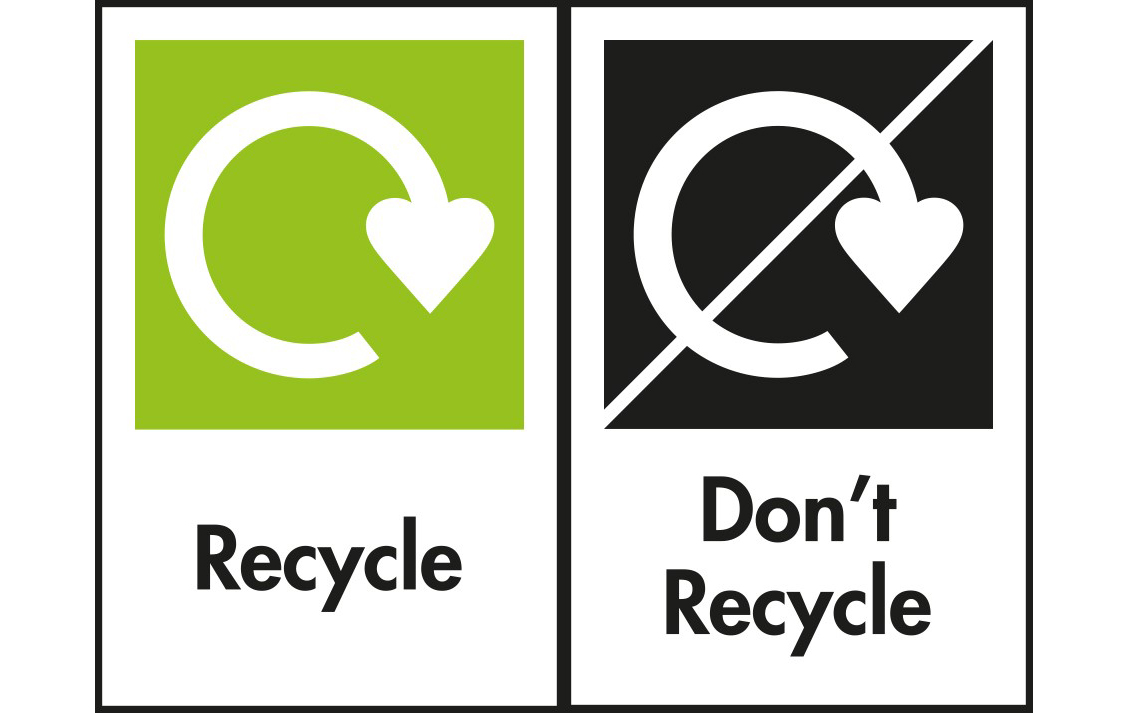 Recycle – 75% or more of UK local authorities collect that type of packaging which is then effectively sorted, processed and sold as recyclate for use in new packaging or products.
Don't Recycle – fewer than 50% of UK local authorities collect that type of packaging and/or it is not effectively sorted, processed or sold as recyclate for use in new packaging or products.
By offering a consistent and well understood label, OPRL aims to:
Keep it simple for consumers and users;
Provide clear advice to consumers on how they can recycle in their local area;
Be practical to apply on packs alongside statutory information;
Support innovative councils which collect materials not currently widely recycled; and
Protect quality of recycling streams by preventing contamination with materials not currently recycled.